PETERBOROUGH PRIDE NEEDS YOUR HELP
Peterborough Pride came about via lots of good will, limited fundraising, some grant funding and the commitment of a small group of people. Yet despite the success of our first pride, our upcoming festival plans to be even bigger and better, and we simply can't do it alone!
2019 is year two of a 5 year plan that will see Peterborough Pride become a lead contributor to the National Pride Programme. We're building lots of partnerships both nationally and with local organisations and businesses that will last for years to come.
Last year, we were proudly supported by the likes of ESP, Queensgate Shopping Centre, Peterborough Today, Peterborough Cathedral, Vivacity, Embrace, Mixology, Electric Ballroom and many more! Not to mention our biggest supporter of all, the arts organisation Metal. We thank you all!

You can celebrate Peterborough Pride in whatever way you wish, which could include organising/attending an event or simply displaying the rainbow flag as a symbol of solidarity. You can also donate to our cause (details below)! Whatever it may be, nothing is too big or too small, and its often the most unexpected gestures that have the best impact!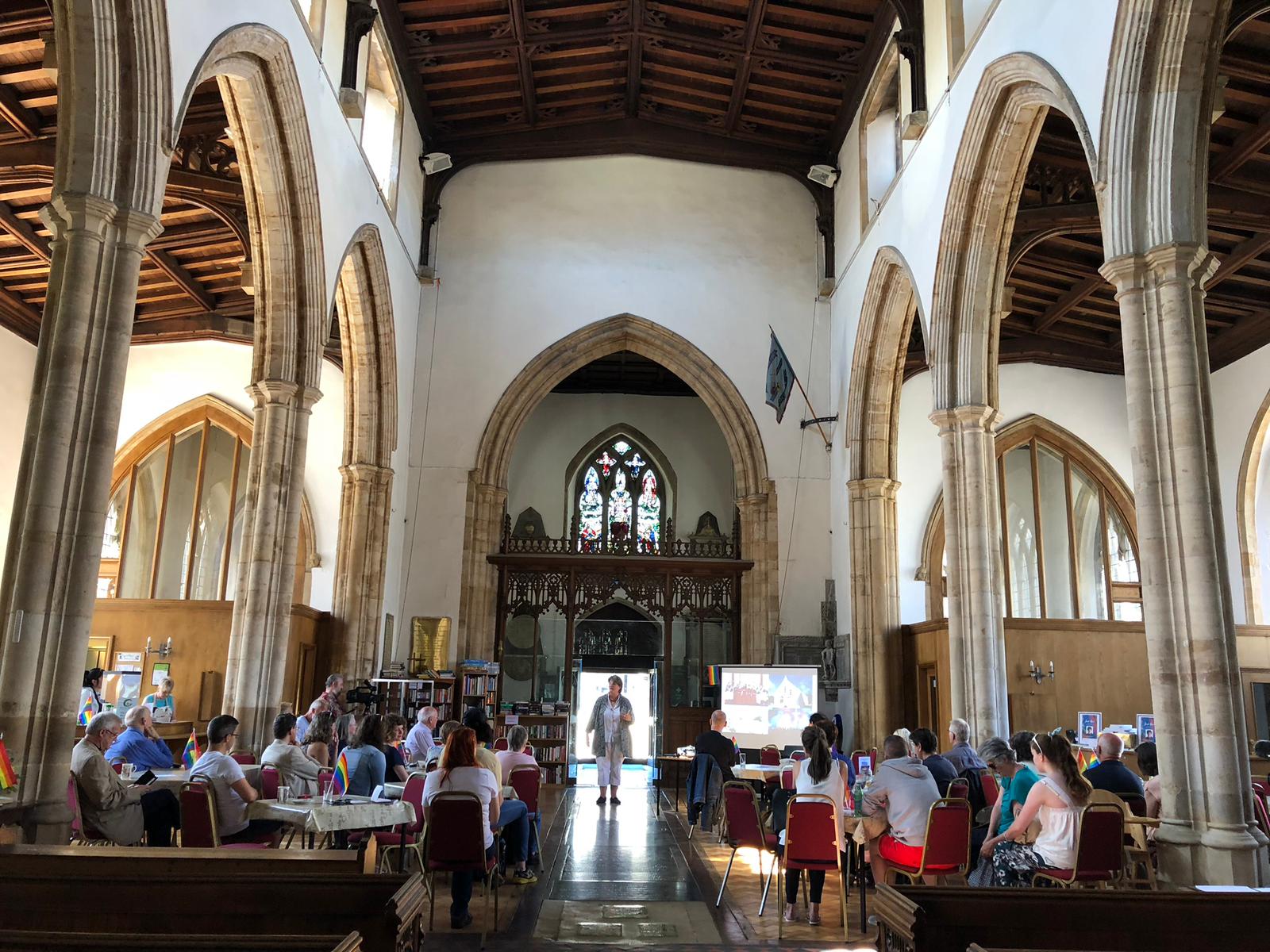 If you have an interest in supporting the festival and LGBTQIA+ events in Peterborough, then volunteering is definitely for you! We are looking for friendly people to be on hand throughout the festival between 28th June and 5th July.
You'll be on hand to check-in attendees, look after guests and artists, help with the venue set up and generally be a friendly face around the festival to be a point of information. Sadly volunteering is unpaid, but being part of a greater, regional cause would look great on your CV!
We see volunteering as a great opportunity for students, but equally, this gig is for anyone who wants to be involved and has a good work ethic. You don't need to work every day, either — just when you're available — so you can still attend the festival! You'll get your own lanyard and a free Peterborough Pride pin as a thank you!

This year, we're also on the look out for Pride Ambassadors to help promote the LGBTQIA+ community in Peterborough and events around the eastern region. We need Pride ambassadors to promote diversity and inclusivity in the area, and we believe there's never been a better time to do so!
As a Pride Ambassador, you'll help to spread the word, promote and assist events and generally help to make Peterborough Pride a success!
Pride Ambassadors also get their own rainbow lanyard for the festival in June, plus an official Peterborough Pride pin to wear at events throughout the year. As is volunteering, being an ambassador is unpaid, but as long as you're 12 years and older, we believe there's a real sense of pride that comes from acting as our official LGBTQIA+ representatives in your school, college, university or workplace!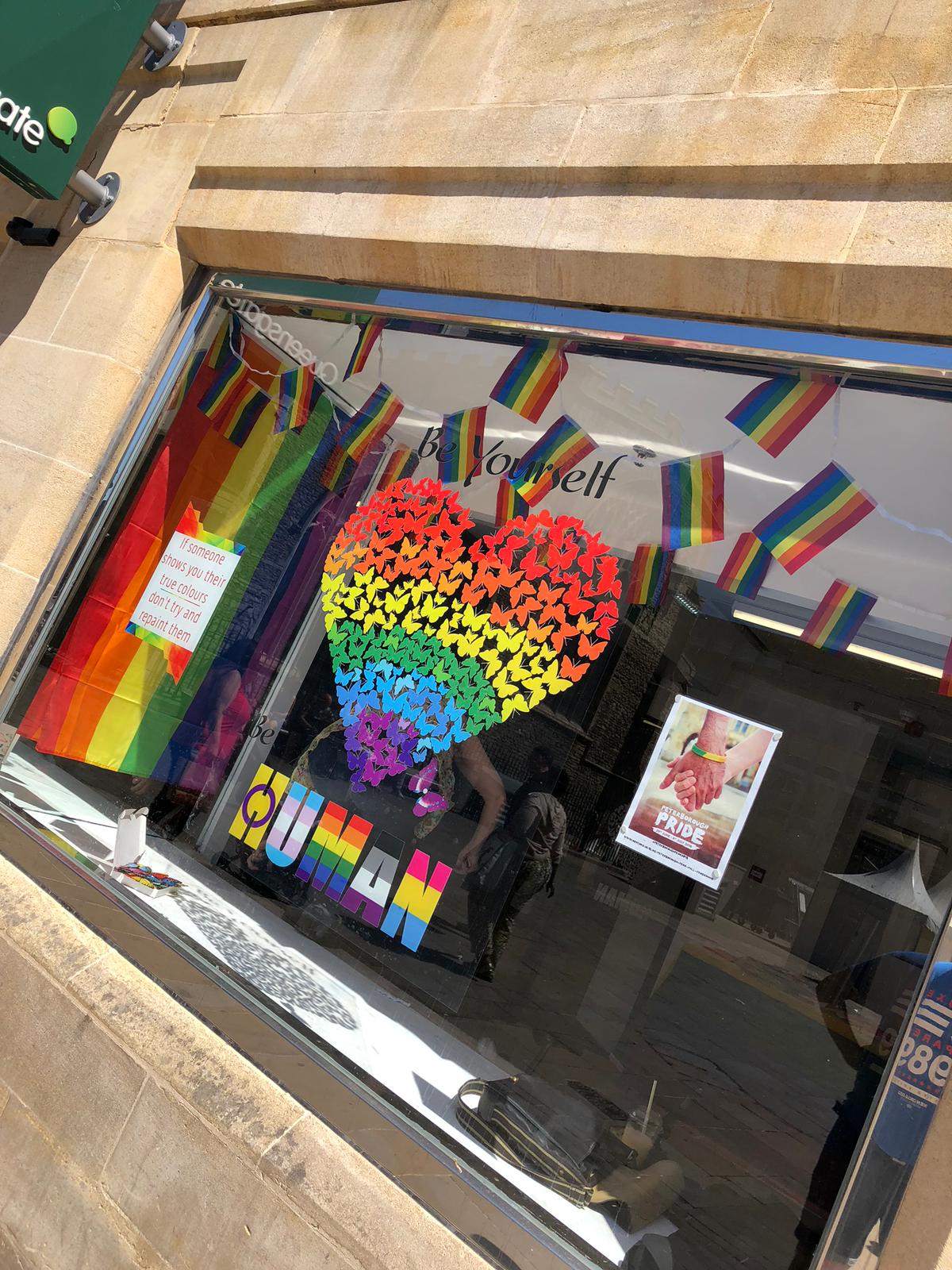 FUNDRAISING FOR PETERBOROUGH PRIDE
Peterborough Pride is a non-profit organisation dedicated to helping the gay community in the eastern region. We want to establish our city as a destination that welcomes everyone regardless of background, gender identity and sexuality.
Our first festival in 2018 questioned the status quo by curating a week-long programme of accessible events to showcase Peterborough's LGBTQIA+ community in all its glittery glory, and we want to continue doing this in a way that is inclusive for all.
This is why donating is so crucial, to ensure future generations of the Lesbian, Gay, Bi-Sexual, Transgender and Queer community can live without fear of discrimination or abuse.
We're looking to raise £3,000 for Peterborough Pride 2019, and a further £4000 for Peterborough Pride 2020, which will enable us to create an accessible and inclusive festival for all.

100% OF ALL DONATIONS GO DIRECTLY TO PETERBOROUGH PRIDE AND LGBTQIA+ CHARITIES
In reality, the more money we raise, the bigger the impact we will have! We are ambitious and therefore need to secure the funding for Peterborough Pride to be a sustainable annual event. If you're able to donate even a small amount, it will go a long way towards the running costs of the festival. Your donations to Peterborough Pride also support:
Activities and events for and by young people
Ticket subsidy to ensure affordability for all
Marketing, promotional material and merchandise
Education and training events in schools
From our annual festival to networking events we run throughout the year, the Peterborough Pride team work tirelessly to give the city a platform for promoting and discussing the challenges our LGBTQIA+ community face on a regular basis. We encourage you to donate anything you can to help support Pride in our city!